Dean Celebrates 10 years of being Smoke Free!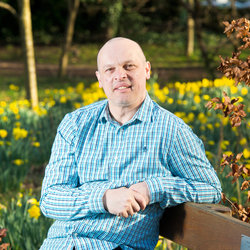 Dean Rogers from Halifax quit smoking on November 17th 2011 with support from our Yorkshire Smokefree Calderdale team.
Dean vividly remembers why he stopped smoking 'I'd been on holiday and during the holiday I just couldn't breathe. I went to A&E and was diagnosed with pneumonia and early COPD (chronic obstructive pulmonary disorder). The nurse in A & E explained to me that I needed to stop smoking so that the COPD didn't get any worse. I was referred to Yorkshire Smokefree and got the help I needed to quit.'
Dean had weekly group support and was given access to stop smoking products that helped him through the early stages of quitting. Yorkshire Smokefree currently offers telephone one to one support, video calls, a video group and online help.
Dean said 'The group really helped me to quit and to stay stopped. It was that feeling that we were all in the same boat, supporting and encouraging each other. It helped to get that pat on the back and not feel like I was the only one quitting smoking.'
Since quitting Dean hasn't looked back. He has done things he could never have managed if he hadn't quit.
'I've climbed Ben Nevis, Snowden and Scafell. I do lots of walking now, I couldn't have done this if I was still smoking. Financially too, I've done things like going to America twice on holiday. If I'd been buying cigarettes these things just wouldn't have happened.'
Asked what advice he would give to people that currently smoke to encourage them to follow his path he said 'I know how hard it is to give up and what smoking does to you. I wouldn't have been able to do it without Yorkshire Smokefree, the help is there. Don't give up giving up, give them a call. It is so worthwhile and the benefits of quitting far outweigh what it takes to quit.'
Dean is now a volunteer with Yorkshire Smokefree, using his experience of quitting to help others that are on their smoke free journey.